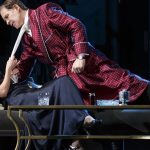 Present Laughter
Starring Kevin Kline
Written by Noel Coward
Directed by Moritz Von Stuelpnagel
St. James Theatre
June 21, 2017
Production website
💉💉 out of 5.
Kevin Kline is just so good in this – – but there is just so much of this!  After seeing 1984 last night I was so eager to see a play that behaved itself and delivered some acting and some story.  Present Laughter, I thought – – there's the remedy.
It was such a beautiful play.  A gorgeous set full of theatrical decadence with doors a plenty and plenty of furniture to poise, pontificate, and pursue a dalliance.  The language of Noel Coward is so rich and so wonderfully sarcastic.  It is so nice to hear a play that has vocabulary that reaches beyond two syllables.   Continue reading Present Laughter →