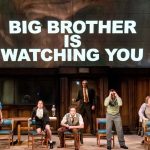 1984
Written and Directed by Robert Icke and Duncan Macmilla
Hudson Theatre
June 20, 2017
Production website
💉 out of 5.
IN KEEPING WITH THE THE DELIVERY OF THIS PLAY, I WANTED TO TYPE THE ENTIRE REVIEW IN SCREAMING ALL CAPITAL LETTERS – – but I have better manners.
This was my first time in the beautiful Hudson theatre that just opened its doors a few months ago with Sunday in the Park with George.  It is a gorgeous building.  The lobby was good. But then I took my seat.
This play is such a huge f***ing mess.  They go through hundreds of flash pods that blind the audience on a regular basis.  It was as if they couldn't think what to do with the actors in the scene – so let's just blind the shit out of the audience.  Then the blinding wasn't enough. Continue reading 1984 →