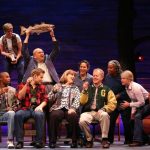 Come From Away
Book, Music and Lyrics by Irene Sankoff and David Hein
Directed by Christopher Ashley
Gerald Schoenfeld Theatre
June 17, 2017
Production website
💉💉💉💉💉 out of 5.
There are not enough words to tell you how wonderful this show is!  It is fun to experience; it sounds great; it is energetic; the cast is passionate about what they are doing, and you leave the theatre feeling so so good!  NYC has always had trouble tying to tell the story of 9/11 in the theatre.  Either the story becomes so political that it becomes more of a speech that leaves you cold – – or the 9/11 plays become so maudlin and so lost in the anger and sadness that all you want to do is weep.   9/11 stories were either about the head and they neglected the heart – or they were focused on the heart and they had nothing to say to your head.
Come From Away is the perfect blend.  I am not going to go into the plot much,  You can easily look this up on line.  Suffice it to say that this true story of a airstrip in Newfoundland that temporarily housed a large collections of planes and passengers that were grounded as the airspace was cleared on that fateful September 11th is fascinating.  We get some history; we get some humanity; and we get some celebration!
What I loved most about this musical was that the performers did not look like musical theatre performers.  They looked like people plucked right off of the streets.  They were not all young, in perfect shape, with perfect teeth, and in top athletic shape.  They were us.  And the dancing in the show was so powerful – – because I could actually have done it.  It was simple.  It was humble.  I felt it in my body.  "I'm an islander.  I , I'm islander."  resonates through my brain and my aging knees as I write.  God this was fun.  I cared about everyone  . . down to the lady who fed the dogs and cats trapped in the cargo.  She moved me.
See this damn thing.  "Be an islander!"