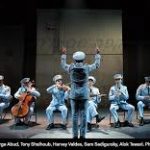 The Band's Visit
Music and Lyrics by David Yazbec
Book by Itamar Moses
Directed by David Cromer
Ethel Barrymore Theatre
January 12, 2018
Production website
💉💉💉💉 out of 5.
From the first moment of music I was won.  The Egyptian music was so wonderfully foreign to me – and so passionate and emotional – It was an entire show before the first character entered.  It is hard to describe the wonderfulness of this show.  I suppose if you were schooled in international music you would have heard some of this Jewish/Egyptian/Arabic music and all of its unique orchestration it would be old hat you  – but, for me, it was new, new, new.  Passion played out is such new and unusual ways.
I really only had two reservation for the show.  Firstly, I found the set to be too literal – too predictable – a giant revolve and some simple pieces of interior furniture – and, of course, a disco ball.  I thought perhaps I was going to get a more abstract visualization of their world – less realistic, and perhaps more romantic.  The true challenge I had in the show was that the moment the songs ended and the show went back to dialogued scenes, I simply fell out attention.  I didn't care about the people and their issues – or – better said, the difference between what I felt for them when they sang and and how I responded to the scenes was SO different.  I just wanted all of the spoken scenes to be done so we could get back to the music.  To me, the music did all that was needed – the scenes were an unnecessary accessory to the show.
Katrina Lenk was magical.  She sang in a way that I have never heard before on Broadway.  It was such a gymnastic, balletic signing.  Her voice danced in the shadows on the stage.  I wish I was more of a musician to describe the sound but everyone in my row agreed they had never heard anything like this.  Her voice matched the shadows her body made on he stage's back wall.
Tony Shalhoub caught some wonderful character on stage.  He really listened on stage and had the necessary sense of humor to carry the character – but it seemed to me that he was too focused on his dialect to capture the nuances.  It distanced him from the audience – and we really need to be in his back pocket to own the end of the show.
I had seen the movie a few years ago – it was funny.  I experienced the book to the musical to The Band's Visit and it was nothing exceptional – it just seemed to do the scenes from the movie that made sense to do on stage. – but then the music was added to The Band's Visit and it became an entirely different game.  Wow.