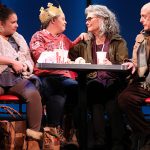 Amy and the Orphans
Written by Lindsey Ferrentino
Directed by Scott Ellis
Roundabout: Laura Pels Theatre
March 20, 2018
Production website
💉💉💉💉 out of 5.
Amy and the Orphans was damn near the best show I have seen in a long time.  I know there are those who do not value the comedy and would only say that ratings of 💉💉💉💉 ro 💉💉💉💉💉 must go to a drama – because of their profundity, but I disagree!  A great night in the theatre is a great night in the theatre!
I have to admit that part of my reason in going to see Amy and the Orphans was to see how a woman with Down Syndrome would actually work out in a full theatrical production.  My very limited experience with those living with Down Syndrome convinced me that this was impossible.  But I was wrong!  Continue reading Amy and the Orphans →