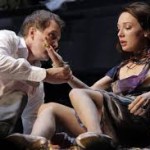 Miss Julie
produced by Theatre of the Nations, Moscow
written by August Strindberg
adapted by Mikhail Durnenkov
Lincoln Center Festival
directed by Thomas Ostermeier
July 27, 2015
Production website     💉 out of 5
What in the hell was I supposed to be watching? I had the following choices throughout the entire production:
1. Snow falling around the circular revolving stage.
2. Sub-titles in 3 various screens.
3. A giant screen upstage with a down camera focused on the kitchen sink and stove top as food was made and dishes left dirty. For at least 30 minutes we simply watched a pile of dirty dishes being projected on the 20' upstage screen.
4. And, oh, the actors – – them too.
Smartly I got tickets a good deal of distance from the stage so that my neck wasn't unduly dislocated. Continue reading Miss Julie →