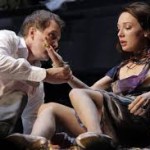 Miss Julie
produced by Theatre of the Nations, Moscow
written by August Strindberg
adapted by Mikhail Durnenkov
Lincoln Center Festival
directed by Thomas Ostermeier
July 27, 2015
Production website     💉 out of 5
What in the hell was I supposed to be watching? I had the following choices throughout the entire production:
1. Snow falling around the circular revolving stage.
2. Sub-titles in 3 various screens.
3. A giant screen upstage with a down camera focused on the kitchen sink and stove top as food was made and dishes left dirty. For at least 30 minutes we simply watched a pile of dirty dishes being projected on the 20' upstage screen.
4. And, oh, the actors – – them too.
Smartly I got tickets a good deal of distance from the stage so that my neck wasn't unduly dislocated.
What's up with the first moments of these productions? Miss Julie was set in a high-tech, top-of-the-line appliance filled kitchen. In this kitchen, cameras were placed in several areas above the kitchen (much like a cooking show on TV), and for the first 10 minutes of the show we watched a plucked duck get its head and legs cut off, de-gutted, seasoned and fried in a skillet with a modest collection of vegetables. What in the hell this had to do with the illicit love affair of a valet and a wealthy girl from an aristocratic family – – I HAVE NO IDEA.
As this is a production directly from Russia, I was eager to see the legacy of Stanislavsky and some premier work in communicating subtext. The truth of the production could not have even further. The principal character, Miss Julie, spent the entire play indicating how drunk she was and then how crazy she was. All of her focus was on slurring her words and stumbling around the stage. No relationship of any weight was created.
I thought perhaps I am being a bit xenophobic. Perhaps the acting style in modern Russia is a bit more presentational. Perhaps the director was encouraging them to make this a more external work rather then focusing on inner motivation. It just disappointed me. I wanted to see the real stuff.
I may be shallow, but I I go to this play to see the sparks that are created by the spoiled rich girl and the rugged 19th century version of Stanley Kowalski. Wow, was this off! No chemistry happened here. Miss Julie (Chulpan Khamatova) was beautiful and sexually present, BUT her counterpart Jean (Evgeny Mironov) did not exactly light up the room. Rather then a swarthy valet taking care of the horses in the stable he came across more as a desk clerk at Hertz rental car.
You can always tell during the curtain call for a show how the actors experienced it. Miss Julie was not a happy camper. She reluctant to even take her bow. There was more joy in the chorus of "party-makers" that had but three minutes of the stage.
But remember when Miss Julie is not happy ain't gonna be nobody happy!