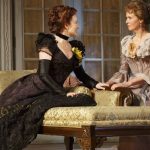 The Little Foxes
Written by Lillian Hellman
Directed by Daniel Sultan
Manhattan Theatre Club
Samuel J. Friedman Theatre
June 18, 2017
Production website
💉💉💉💉 out of 5.
I am such a fan of theatre the pushes the envelop and challenges the way we "think" theatre should be done.    I love when they take the "major dramatic structure" that I teach every day of my working life and mess around with it.  I celebrate the rule breakers.
Little Foxes is certainly a rule follower –  and what a beautiful rule follower it is.  Every scene is so full and rich.  We get a protagonist that is set up with an inciting incident we watch her claw and fight her way to get the goal we all know she wants.  The exposition is so beautifully woven into the play that you don't get the "Man, Act 1 is sure slow" feeling.  Little Foxes is certainly a classroom example of how good story telling and structure really do make for good art.
This is also the first time that I have seen this play out of the hands of teenagers or even community theatre actors.  This time I get to see the play not only in the hands of masters, but in the hands of people who are the age of the characters – actors I can believe.
I loved the savageness of this play.  One of my very sharp musical theatre students said that character Regina is very much like a straight play version of Moma Rose.   Cynthia Nixon was "on" the night I saw it – paying against Laura Linney as Birdie.  They were such a sublime contrast to each other.  I only wish I had the time and money to come back and see the play later when they switch roles.
Sublime, plotted realism – perfect Sunday afternoon.