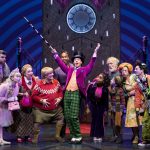 Charlie and the Chocolate Factory
Book by David Greig
Music by Marc Shaiman
Lyrics by Scott Witty and Marc Shaiman
Directed by Jack O'Brien
Lunt-Fontain Theatre
June 12, 2017
Production website
💉 out of 5.
I am sitting in a sea of very young children and I a wondering why Broadway has so very few offerings on a Monday night of theatre going.  This is just not fun.  The moment I walked into the lobby and saw the concession stand pumping endless sugar candy into the mouthes of over-hyped children I panicked.
This show had lots of problems.   Continue reading Charlie and the Chocolate Factory →