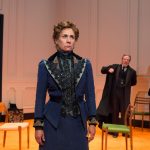 Doll's House Part 2
Written by Lucas Hnath
Starring Laurie Metcalf, Chris Cooper, Jayne Houdyshell, and Condola Rashad
Directed by Sam Gold
Golden Theatre
June 13, 2017
Production website
💉💉💉💉💉 out of 5.
This my readers THIS is a play!  90 minutes has never flown faster.  I was grabbed by my collar and whisked away and thrown out in the street later in numb silence to figure out what the f*** just happened.
I teach the good 'ol Ibsen Dolls House every year to sophomores.  28 years of sophomores have walked through this story with me.  It bored some – – but the majority were really captivated by the blackmail and the sweet little skylark standing up and kicking some Torvald ass.  But what happened after the mighty door slam?  What happened to a woman who just gave it all up – – husband, children and station in society?  Where did she go?  What did she do? Continue reading Doll's House Part 2 →