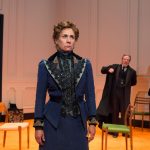 Doll's House Part 2
Written by Lucas Hnath
Starring Laurie Metcalf, Chris Cooper, Jayne Houdyshell, and Condola Rashad
Directed by Sam Gold
Golden Theatre
June 13, 2017
Production website
💉💉💉💉💉 out of 5.
This my readers THIS is a play!  90 minutes has never flown faster.  I was grabbed by my collar and whisked away and thrown out in the street later in numb silence to figure out what the f*** just happened.
I teach the good 'ol Ibsen Dolls House every year to sophomores.  28 years of sophomores have walked through this story with me.  It bored some – – but the majority were really captivated by the blackmail and the sweet little skylark standing up and kicking some Torvald ass.  But what happened after the mighty door slam?  What happened to a woman who just gave it all up – – husband, children and station in society?  Where did she go?  What did she do?
This play could have been such a joke – riding on the tails of a great classic  with nothing new to offer – except for a few in-jokes for us theatre geeks – but NO.
This story is almost more compelling then the first.  Maybe Nora is the enemy.  Maybe Nora is the selfish one.  Maybe Nora made the wrong choice.  Maybe Torvald is the victum.  And what about the children?  What about that young daughter that grew up with no mother?  What would she have to say fifteen years later to a mother who chose herself BEFORE her children – – proud of her mother?
Laurie Metcalf and all the rest just rock this play.  They take the "classic play" sting out of the play, get rid of the furniture and trappings, reduce the set to four chairs and a box of kleenex and they get to it.  The play begins with a knock on the big black door and ends with Torvald in control of the door gently closing it to replace the deafening sound of it being slammed shut on him years earlier.
These actors get down on the floor, they roll around in some blood, they belt water from a bottle, they say "fuck" and "shit"  and only because it makes sense.  Nobody wins.  Everyone hurts and everyone looses.  Everyone's grand ideas end up tattered on the floor with the ripped divorce papers.
For god's sake see this thing – you non believers of theatre.  IT WILL WIN YOU!