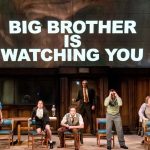 1984
Written and Directed by Robert Icke and Duncan Macmilla
Hudson Theatre
June 20, 2017
Production website
💉 out of 5.
IN KEEPING WITH THE THE DELIVERY OF THIS PLAY, I WANTED TO TYPE THE ENTIRE REVIEW IN SCREAMING ALL CAPITAL LETTERS – – but I have better manners.
This was my first time in the beautiful Hudson theatre that just opened its doors a few months ago with Sunday in the Park with George.  It is a gorgeous building.  The lobby was good. But then I took my seat.
This play is such a huge f***ing mess.  They go through hundreds of flash pods that blind the audience on a regular basis.  It was as if they couldn't think what to do with the actors in the scene – so let's just blind the shit out of the audience.  Then the blinding wasn't enough.  So lets give liberty to an obviously enthusiastic sound designer who will make the loudest screeching, bombing, exploding sounds I have ever heard- – and let's allow him to hit the GO button any time he feels like it.   So we now are a blind and deaf audience – time to throw in a little gore.  Let's simulate clipping all ten fingers off of someone, let's simulate busting out all of the teeth, let's simulate sticking someone's head into a metal trap full of hungry rats and slowly let them eat off most of his face.  Oh, not enough?  Not enough?  Blind the audience, play some explosions – – again and again and again,
And the acting – or rather pouting in the show???  We have a protagonist who does little more then pout and look like he hasn't seen the script for this show before.  But – to simulate good acting, let's allow him to slog through a poor imitation of Marlon Brando for over two hours.   And then to add to the disappointment, we finally get to a little sexy scene – and he takes off his shirt – but disappointment reigns – he may sound like Brando but he ain't got no Brando body!  If you know what mean . . .
What was to love – no  – like – about this show?  It is such a great book and such great relavent, timely messages about Big Brother and our williness to walk numbly into our own demise.  1984 correctly predicts our reliance on the "screens" or the cell phones and computers that have highjacked our life.   But they didn't trust this – they turned it into a ZZ Top concert (dates me, I know)  LESS IS MORE.  LESS IS MORE.  F*** IT less is more.