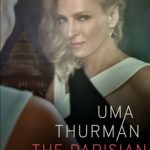 The Pariasian Woman
Written by Bill Willimon
Directed by Pam McKinnon
Hudson Theatre
December 27, 2017
Production website
💉💉 out of 5.
Kill Bill does a bit of a political thriller – or so I thought. . . .  well, a bit more of Kill Bill would have helped.   The Parisian Woman is based 19th-century French farce by Henry Becque.  They obviously took this political farce and "updated" it with as many pseudo-Trump references as they could.  "Let's say everything we can about Trump without saying his name."  And clearly this was the response of the audience.  From "locker room talk" to "fake news", the audience giggled with delight every time they could make the connection.  Other than the Trump references, the play gave us a very beautiful Uma Thurman trying to convince us that she is so desirable and charismatic that she could get Washington's shakers and movers to do her will.  Gorgeous she is – but I found her totally unable to create any chemistry with either her male or female lovers.  Why was everyone willing to go so far to please her?  Why was everyone willing to take such big risks to be with her?  I just didn't get it.  If your story is going to be about the power of sex to rule the world (which certainly makes sense) then you really do need to have more than just attractive people you need to have charismatic people that create chemistry with everyone onstage AND in the audience.  Uma Thurman just didn't have that throw.  Perhaps the camera is her best suited weapon.   I could certainly understand why Uma Thurman was chosen for this role – I just wish that some of the punch that she generated on screen could have been shown on stage.   Backstabbing is necessary for all political thrillers – but in this case the blade was way too dull and did more poking then stabbing.