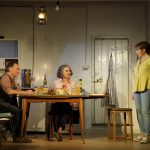 The Children
Written by Lucy Kirkwood
Directed by James Macdonald
Manhattan Theatre Club
Samuel J. Friedman Theatre
December 26, 2017
Production website
💉💉 out of 5.
This is my kind of play – certainly that's what I thought.  I was expecting some combination of a Martin McDonough's blood and guts kind of a play with a bit of an intellectual warning of the dangers of atomic energy.  Some of that happened.  The idea is so provocative.  What would happen after a nuclear power plant had a problem and poisoned a community?   Who would go back into this danger zone to clean up and try to get the plant back on line – – because we certainly cannot do without that electricity and we certainly cannot explore any other more natural ways of making electricity.  Who should go back and clean up that plant?  Well the job pays well and young people with families sure could use the money – – – or should those who are older, past their child bearing years and many dealing with life limiting conditions of their own be better candidates to get things back to normal.  Terrible choices everywhere.  But in this three-hander of a play a band of retired employees of the atomic reactor decide to push away the young and take responsibility for what they started.
Great idea!  But I just couldn't care about anyone on stage.  I didn't care about their families or their relationships.  I couldn't get wrapped up into any of their histories.  AND – the acting was just so indicated for me.  I could predict every slap and wig removal.  I could sense the falseness in the prolonged tears.  I could never believe that any of these characters could have had significant jobs at a power plant.  I found the stage metaphors of yoga played out on a floor of human waste to be more gross then telling.  Why were characters constantly talking out windows pushing the sentiment of their lines rather than making a point with their acting partner.  The joy in the piece seemed false, the fight was indicated, and the infidelity in the play just seemed oh, so cliché and unnecessary.  Someone needed to tend to this good story and offer a better play.