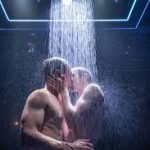 Afterglow
Written by S. Asher Gelman
Directed by S. Asher Gelman
The Loft at the Davenport Theatre
December 29, 2017
Production website
💉💉💉 out of 5.
I need to apologize to The Afterglow.  As I walked up the three long flights of staircases, I just knew this was going to be a thin, exploitive gay "event" that was going to pretend to be a play – but ultimately just be gay for gay's sake.  BUT, I had a great time.  it was a fun story.  It had a cast or three young men that were just having good ol' infectious fun! 
I have the feeling that I am part of a pack of some 50 or so gay men that travel in a pack and see theatre all over the city.  Of course, we see all the important plays and all the Tony contenders, but we also feel a commitment to see "gay plays."  No matter the playwright, cast, story or venue we feel a commitment to go to those, attics, basements, side bars, and forgotten corners of ware houses to see gay theatre.  As my blog attests, I have been to many of these plays – and always had to be careful not to be too sarcastic and mean  – especially for all the sell meaning energy behind these plays.
Afterglow is different.  Afterglow is the best of the bunch.  What worked for Afterglow was that it didn't try to be important.  It didn't try to make gay men feel better about being gay, it didn't try to convince straight people that gay is good.  It didn't talk politics, religion or health.  AND – although the play did include a gay couple waiting for a pending surrogate adoption of a child – the play didn't go their either.  Let others plays go there.
This was just good old fashioned relationship soap opera- – how does an open relationship work – what happens when two plus one does not become an even three?  Working through lust – working through the enticement of youth – working through the greener grass on the other side of the fence – all makes for a fun night.   And then, of course, the nudity.  This play had more nudity then I can remember in long time – BUT the nudity made sense.  You were being invited into the beds and showers where relationships were being built and tested.  We weren't going to stand on the outside of the shower and eavesdrop on the goings on – no we were stepping into the shower with the characters and lying down in the bed with the three of them to be part of the courting.  It was so wonderfully intimate.   It didn't tease you – it led you there.   It certainly had its sensualness and sexuality – but it also just seemed so frankly honest and adult – and, what the hell, a perfect way to spend a snow night in New York.