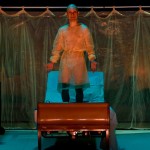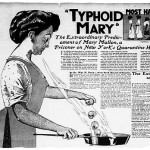 An Intimate Evening with Typhoid Mary
written by Carl Holder
directed by Knud Adams
New Ohio Theatre
March 25, 2016
Production website
NO 💉 out of 5. ☠ TOTAL POISON
My god almighty, what the hell did I just see? When I was a tyro to the world of theatre I was fascinated by the Off Off Off Off Broadway plays pasted together by good intentions and a dollar fifty. I loved to see the raw, exposed work of those obviously unseasoned actors working in warehouses, cafeterias, pubs and even elevators. "THIS is theatre, I thought." But truly what the hell happened at 4pm on a Saturday afternoon?!?
The premise was quite promising. Let's explore the interesting but seldom explored biography of Typhoid Mary. Her true story of her life in New York City is fascinating and full of danger, secrets, and gore – perfect for the theatre.  We explore Mary's large family and odd career path that left a wake of typhoid victims. She was forcibly put in isolation – then escaped – then, then, then – – it really is a pretty fascinating story.
THEN let's add a retired dying drag queen in a modern hospital. THEN let the drag queen in his final breathing hours BELIEVE that he IS Typhoid Mary. And let him act out the story of Mary with finger puppets, spoken poetry, odd little songs, and simple shoutings of "God, who knows what!" But, oh my God, this play took a big an even bigger detour. The entire play was set in the bed of the dying drag queen. We watched as he was stripped, sponged, sprayed and redressed. We watched him being served a grilled cheese sandwich – and in fact we heard a rather long song about the complexity of EATING a grilled cheese sandwich. And then of course what does one do after one eats a grilled cheese sandwich? One has to poop. Yeah, you read me right, you have to poop.
The entire second half of this I-want-to-bite-my-arm-off-to-free-myself-from-the-chains of this play was about taking a dump. Oh, I am not kidding. His abdomen was palpated. He was given a collection of laxatives. They set him upright on a chair with a bed pan underneath. He strained and strained – but nothing. Then as the play was building to a climax, the medical team decided that he needed a "procedure" to bring relief. They turned him on his side stuck a flashlight and a pair of kitchen tongs up his butt and brought relief to our now dead patient and relief to an audience that rather fought to get out of the doors of this production.