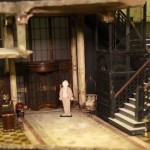 Hughie
written by Eugene O'Neill
starring Forest Whitaker
directed by Michael Grandage
Booth Theatre
March 23, 2016
Production website
💉💉💉💉 out of 5
Stuck in the lobby.
I often talk with my students – particularly my seniors about how much of their senior year is spent in the "hallway" between the world of high school/adolescence and the next, soon to be open, door of their adulthood. It sucks to spend time in the hallway, I get it.
But imagine the world at my age – there are not nearly as many "hallways." Now, as a adult, it is more about living in the "lobby" of life.
This is the setting for Hughie. We are in the most decrepit of hotel lobbies where all things are rusted, heavy, and dark. There is a tiny desk for registration, manned from the moment the audience walks in – – to a too tall staircase winding itself up stage right. This is the world Erie Smith (Forest Whitaker). The world outside of the hotel is moving just too fast for Erie. The old friends are gone, the old wins have faded, and it's just too noisy and too anxious on the other side of that revolving door. Of course, in this "hotel," once could climb up the VERY steep stairs to your room and hide under the overly bleached sheets . It would be quiet there but it would be too quiet. And, once you got there, would there ever be a reason to come down again?
This play is tee-tiny, quiet and overwhelmed by subtlety – and Forest Whitaker is damn near brilliant. At first, I was reluctant to see this. I thought it was to be another of those celebrity maiden launches on Broadway. I thought it was going to be much more about Forest Whitaker and far less about O'Neills story. I was wrong again. This was a master class in acting. Forest Whitaker was telling the story in every gesture and in every move. You could see his desperation in every failed gesture – – in every missed step. He stories got old – old even for him and you could sense it in his posture. It was pathetic in the most beautiful definition of that word. I was amazed at how Forest could do this about of telling detail on a Broadway stage. But, he did it.
True, there were people in the audience who were rather dumbstruck after the brief 80 minutes of the play. Nothing happened but a playing out of despair. I am not sure what they wanted – but most didn't get it. I did. I learned. I respected acting all over again!
SIDE NOTE: What's up with all of these shows lasting only 80 minutes? I looked at the price of premium seats for Hughie and divided it by 80 and found out that if you bought those full pice tickets, you would be paying $3,62 a MINUTE. Damn. No wonder everyone in theatre audiences is just a pacemaker away from the light.