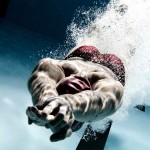 Red Speedo
written by Lucas Hnath
directed by Lileana Blain-Cruz
The New York Theatre Workshop
March 26, 2016
Production website
💉💉💉💉💉 out of 5
How truly wonderful to end my Spring Break extravaganza of seven shows with the very best one of the group: Red Speedo. I did not know much going into the show except that it was written by Lucan Hnath who wrote my last 💉💉💉💉💉 show, The Christians. I loved that play, and I loved this play, I am officially a fan! The second draw for me to this play was the setting of a swimming pool. Ever since Metamorphosis at Circle in the Square and my own personal production of Metamorphosis set in an actual pool of water – I have been fascinated not only in the beauty of actors in the water – but of the dramatic possibilities of storytelling in the water.
The setting for Red Speedo is an actual lane of an Olympic swimming pool. Stretching across the proscenium – about 8' wide and 8' deep. the pool became a barrier between the audience and the pool deck where most of the action took place. I was fortunate to sit in the front row – so for some of the play I was actually looking up and through the water to see the action on the deck. The view was amazing!
The premise of Red Speedo is simple. A swimmer on the fast track to Olympic competition is busted for being on "performance enhancing drugs." You would think the story would progress down a predictable path of collecting evidence, eliciting a confession, and punishing the offender with some kind of a pointed little morality. This was not the case. In addition to the swimmer in question, the play had his ruthless, attorney brother; a passionate, forceful coach; and a jilted, hurting girlfriend. Each had their own agenda; each had there own set of secrets and plans. The swimmer in question, Ray (Alex Breaux – graduate of Juilliard Group 43) was the epitome of the dumb athlete – barely understanding any of the plotting – – happily eating carrots for most of the play. A dumb athlete – or the most organized manipulator? You might guess – but you'd be suprised.
80 all-too-fast minutes in the theatre – and I was begging for more! I am all ready to buy tickets to the next Lucas Hnath play – – I don't care what the title is, the subject is, the theatre is – – or the ticket price. He is that good!