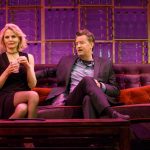 The End of Longing
Written by Matthew Perry
Directed by Linda Posner
Lucille Lortel Theatre
June 15, 2017
Production website
💉 out of 5.
There is nothing more uncomfortable then being trapped in a small space with a die hard alcoholic.  Nothing they say has any meaning. Nothing they say is funny.  They make you uncomfortable.  They are narcissistic.  They go no where.  They mean nothing – and most of all – the next morning your left with a headache and a desire to resurrect those lost hours.
This play is bad.  Bad acting, bad story, bad delivery, and dreadful cliches.  Clearly this play was written by a TV star because no scene could develop or sustain itself beyond eight or so minutes.  Time that would be better spent on the commercial break.
You certainly do not care about these people.  You do not take a journey.  Truly you just get to spend time with a drunk convincing you he's worth the 95 minutes.  He is not.