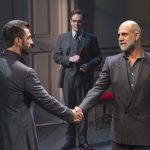 Oslo
Written by J.T. Rogers
Directed by Bartlett Sher
Lincoln Center Theater at the Vivian Beaumont Theatre
June 16, 2017
Production website
💉💉💉💉 out of 5.
This play took me to school in the most wonderful way.  I knew the play was a dramatization of a true meeting between the Israelis and the PLO in Norway that was responsible for a first real, although brief, truce between these long time enemies.  The history is vital for our country to understand – especially since we keep sticking our nose into the business often to the detriment of the peace.
The Vivian Beaumont stage is an enormous hall thrusting out into the audience.  This was used to their advantage.  The walls to the room were enormous and the floor was barren except for a very few pieces of small furniture.  You felt the problem – the world of the play was enormous – but the people were so little and insignificant.
I was hoping that I didn't have to come to the story with a lot of historical knowledge.  I admittedly do not keep up with the newspapers.  But this play took me gently by the hand and led me through the story giving me all the back story I needed and taking the time to introduce the characters a few times until we understood who they were.  We were invited on the journey.  The play did not dumb itself down to us – but it did provide an everyman – Jeffrey Mayes – to lead us up to the play.
The acting was spot on.  I was convinced that these were not actors but the actual politicians.  There was not one false step.  What I got out of the play was the difficulty of building bridges between enemies.  The play suggests that rather then focusing on why we hate each other and tackle our PROBLEMS one by one – – we need to build a relationship on something we can agree on.  In the case of this play, the one thing EVERYONE could agree on is how waffles are wonderful – and nothing tastes as good as good ol' Jack Daniels on the rocks.  Let's eat waffles and drink Jack in this room and then perhaps the work we do in the next room has a better chance.
Important history, good theatre, great acting, and a sense of humor – how could ask for anything more?