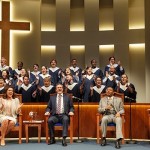 The Christians
Written by: Lucas Hnath
Directed by: Les Waters
Playwrights Horizons/Mainstage Theatre
Production website     💉💉💉💉💉 out of 5.
Along with a good number of New Yorkers, I went to see The Christians fully ready to celebrate a roasting, lampooning and biting satire on those who call themselves fundamental Christians – – but boy did I receive a sit down and shut up moment!
From the first moment that the church choir shuffled their way on stage and that ridiculous electronic "magic organ" played I was armed and ready.  The faces of that pudgy, white chorus with their sweet, sweet, oh so sweet faces and women with only reasonable makeup and reasonable shoes started to do their thing, I sharpened my fangs and thought I was in for a treat.  Pastors wife was sitting there so composed and elegant with that somewhat superior smile, church elder grasping the bible (the only things older then he) and the pastor went to the pulpit.  Ready, set – – oooops
But then the experience turned.  The pastor began to talk of the spiritual life beyond the church.  He talked of a life in heaven even if you didn't follow the doctrine of some church.  He gave the congregation an example that when at a conference with other pastors they talked of a NON-Christian boy in Africa whose house caught on fire.  And as soon as the fire roared up he alone barged back into the house to save his sister.  He can out of the fire with the sister safe, but he was all aflame dying before his community.  The pastors said, in effect, "It's a shame that a heroic boy like that never knew and accepted Christ as his Lord and Savior.  But like all non-Christians, we will certainly burn in the fires of hell for eternity."  And this changed the world for the pastor.  He veered from his standard sermon and spoke of heaven being a place for EVERYONE – not just the Christians.  Church was not necessary for everlasting life.  Further there was no hell – – just heaven for EVERYONE!
Imagine how that shocked the church members and threated the offering plate of the church.  Church doctrine is then played out as a chess match between our newly enlightened pastor and a younger, traditional associate pastor.  If everyone goes to heaven, is Hitler in heaven?  If there is no hell what reason do we have to be good?  Here you find first rate debate, liturgical and practical, and you just sit enrapt.
A technical effect that I so loved and thought genius, was the use of hand help microphones.  Clearly they fit into the church service as the audience/congregation was being addressed – but the actors took these microphones into their everyday world.  The pastor and his wife even crawled in bed to save their weakening marriage with live hand-held mics.  Genius.
And these microphones had LONG tangled cords and these cords became more and more knotted.  They tripped and got in the way.  As the pastor fought for his job and the possibility of church without the option of hell.  He whipped that mic cord around the stage.  He whipped that cord.