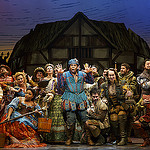 Something Rotten!
book by Karey Kirkpatrick and John O'Farrell
music and lyrics by Wayne Kirkpatrick and Karey Kirkpatrick
directed by Casey Nicholaw
St. James Theatre
June 20, 2015
Production website 💉💉 out of 5.
Two massive things collide in this completely and way over the top musical: Shakespeare and Musical Theatre. And collide they do as the story takes us to a second rate Elizabethan acting company as it seeks to outdo Shakespeare fame by coming up with an entire new genre: Musical Theatre. Admittedly, I am not the biggest fan of musical theatre – – but I just found this one way to over the top – – to the point that it became ultimately tedious. It is one show-stopper after another, milking the audience for more and more attention – – begging to be loved.
But, hello, Mr. Borle and Mr. d'Arcy we love you already – – but the more you demand it, the more likely we are to pull away. The New York Times hit the nail on the head for me when they reviewed the play as "a Broadway-does-the-Renaissance folic as wired as an Adderall popping sophomore during exam week." Unfortunately, it ultimately became sophomoric for me – – and I should know! I work with them every day. Shakespeare as a rock superstar! Totally wonderful but, ultimately, all the gimmickry, sex jokes and over-the-top in everything left me full and all too empty at the same time. How late does Shake Shack stay open?