F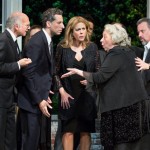 ish in the Dark
by Larry David
directed by Anna D. Shapiro
starring Jason Alexander
Cort Theatre
June 24, 2015
Production website     💉💉 out of 5.
Wow! For a funny man like Larry David on stage – – nobody and I repeat nobody in the audience coughed up more than a laugh or two for the entire two hours. My row-mates and I thought that the opening scrim with the giant fish that actually winks at you was so cute – but then the curtain opened and we were in the land of TV sitcoms. Fish in the Dark focused on how bad family can behave around the relatives – especially the ones that have just kicked up the bucket. This is always ripe for comedy – but how many times have we seen it and how much better have we seen it!
Some of my row-mates thought the problem might be that we were missing Larry David and watching his replacement Jason Alexander – – but, at the shows conclusion, we agreed that Jason Alexander was quite good – – doing all he knows to make us laugh as he did for years in Seinfeld – – but, honest to god, give the man some fresh material.
In Larry David's Curb Your Enthusiasm, we at least saw the joy of of improvisation in the hands of a master – – but no improvisation here just warmed-up/leftover Jewish humor on its last legs.
It's like watching TV. It's not bad TV, but it was not worth getting out of your pajamas and spending $70 to see. I don't go to the theatre to see TV. Enough said.