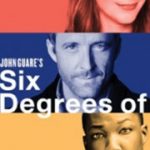 Six Degrees of Separation
Written by John Guare
Directed by Trip Cullman
Starring Allison Janney,  John Hickey, and Corey Hawkins
Barrymore Theatre
April 14, 2017
Production website
💉💉💉 out of 5.
"For each of our dysfunctions, there is someone out there eager to meet us."  This is NOT a line from the play but a line I have learned from my life – – the hard way.  I saw Six Degrees of Separation almost 30 years ago and all I could remember was the nudity and the reckless inclusion of gay hustlers.  Beyond that I am not sure I could tell you the plot.  But I am some 30 years older and now able to focus on those things beyond the scintillating and grab more of the story.
Six Degrees focuses on the art of the con and how we can so easily get caught up in it.  Whether it is selling expensive art, appeasing your guilt over being wealthy, finding a "child" that will love you like your real children never did, or simply an illicit encounter in the dark.  We can all be bought.  It is all a question of the right hustler with the right game – and then it goes down easy.
There is an impossibility to this story.  How does a black man with a self inflicted knife would work his way into an elitist Upper East side home – then convince everyone that he is the only son of actor Sydney Poitier – then cook dinner for them – then help them seal a deal to a multi-million dollar sale of fine art – then work his way into an overnight invitation  – then abuse their invitation by using their fifty dollars to go out and find a gay prostitute and bring him back "home", because as the character says, "Sometimes I get so happy, I just want to top off everything with some sex.  I imagine everyone does?!?
No, not really.  I don't think so.
This hustler is able to fool everyone and all is offers is a slick, well rehearsed demeanor, a race card that he is happy to play when it is to his advantage and an ambiguous sexuality that he is happy to carve off a piece and serve you – – if it serves him.  And, spookiest of all, after his has done his damage and you have caught him in his tricks you will miss him.  Yes miss him.    At the conclusion of the play the wealthy socialite who was so fooled and hurt by him – -claims she even loves him.  Wow.
You might think you are immune from the hustle – from anyone taking advantage of you – think again.
The play was just wonderfully cast.  I might have picked someone with a bit more instant charisma then Corey Hawkins to play the hustler,  but apart from that, the show does expose readiness and willingness to be hustled.