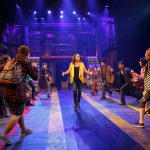 In Transit
Book, Music, and Lyrics by Kristen Ajderso-Lopez, James-Allen Ford, Russ Kaplaj, and Sara Wordsworth
Directed and Choreographed by Kathleen Marshall
Circle in the Square Theatre
March 23, 2017
Production website
💉💉 out of 5.
InTransit: a new musical was just too cute – just way, way way too cute.  For people of my generation, it was as if Up With People were doing an homage to the mass transit system of New York.  It really is hard to fault the piece.  It so cleverly used the thrust staging of the Circle in the Square Theatre where a working treadmill provided the necessary illusion of a subway car whizzing back and forth across the city's underground.
The idea of a musical without an orchestra baffled me a bit until I understood the function of a "beat box" and the ability of a street performer to simulate almost any instrument in an orchestra simply by using their mic, their body and a few carefully amplified mics.  It really is a technological feat!
But then it really did all become cliché.  The young gay couple afraid to tell the one momma about the gay thing; the struggling artist so close – – yet so far from realizing her dreams; the once mighty business man – now stocker at Staples dreaming of expense accounts again.  All predictable – all sweet – but you could smell the end before the first number was over.
The two moments I loved the most was the song that rather tongue-in-cheek encouraged the 33 year old actor to stop trying and simply give up on her dreams.  Stop trying.  Stop waiting.  It will never happen.  You don't stand a chance.  Give up.  Here the show grew some short lived teeth.  Secondly, I also loved all of the inside jokes that daily subway riders knew oh, so well – – like that mysterious, unpublished time at night when the A train suddenly stops going Express and starts going Local and how that can take all the wind out of your night.  It felt so good to be on the inside of an inside joke.  The rest is like candy.  And if you have $100 for candy, then go ahead.