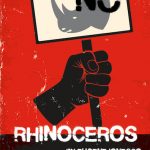 Rhinoceros
by Eugene Ionesco
Adapted by Derek Prouse
The Seeing Place at the Lynn Redgrave Theater
July 16, 2016
Production website
NO 💉 out of 5. ☠ TOTAL POISON
In my 30+ years of coming to see theatre in NYC, this is one of the 10 WORST PRODUCTIONS I HAVE EVER SEEN. Now, please understand, I LOVE this play. Theatre of the Absurd is my passion, and Ionesco is the master writer! The moment that I saw that there was a production of Rhinoceros in NYC, I bought tickets. I didn't care who was doing it; I didn't care how long I was on the train! AND, I LOVE the off off Broadway world. I am often more inspired by what happens in the little closets and warehouses of this city then in the beautiful, air-conditioned Broadway houses. I like to see shows when the budget is small but the passion is high!
I wanted to love this show – – but it wasn't even close!!! I don't really want to beat the show up – but from the first word it just felt like bad community theatre. The acting was not believable; they were not creating moments with each other. They were not listening to each other and creating moments. I didn't see characters up there; they were playing at character. They were so casual at paraphrasing lines that the punch of the script was missing. The humor and pathos of the piece were missing. The principal character looked tired and worn out but lacked the irony and connection to the audience. Hell, I found moments where they were not even memorized.
AND there was no director on hand. The difficult simultaneous dialogue and scenes were NOT focused. The director chose to create the play around us – fine – but it just got buried for no reason in corners of the stage. The BIG transformation TO the rhinoceros just looked improvised – – lacking the choreographed precision and DETAIL that have made this play such a classic.
I just couldn't take a moment of this show. I wanted to close my eyes and plug up my ears and just read this wonderful play. Please please if you are someone that actually saw the show, please comment below. It was either this dreadful or I am losing my hold on the world.