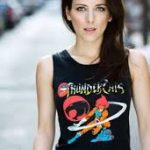 Lucie Pohl: A"pohl"calypse Now!
Written and performed by Lucie Pohl
Directed by Jessi D. Hill (although I am not sure how this works when she simply stood at a microphone and talked for 60 minutes)
59E59 Theaters
July 14, 2016
Production website
💉 out of 5.
I love the Edinburgh Fringe Festival in Edinburgh, Scotland. I have been lucky enough to have attended twice and I can't wait to get back for more. It is so exciting to see theatre done in every square inch of the city!  Theatre 5959 brings some of those events to its theatre in July as they prepare to pack their bags and head to Scotland for the festival in August. It's is a great place to truly see the good, bad and ugly of performance art and theatre. It is all about the no-budget, no-setting, living a dream kind of theatre. I took a stab at it with LUCIE POHL: APOHLCALYPSE NOW! The advert for it said:
A hilarious new comedy of terrors from NYC comedian Lucie Pohl–creator of smash hits Hi, Hitler and Cry Me A Liver. Expect bad language, bad decisions, a wedding, a break up, dead rats, and wake up calls from Stephen Baldwin
When read I thought that this was a going to be a play but it was really a 60 minute stand-up comedy routine about a struggling actress making due in NYC and taking movie jobs as they come to her. It ws the first preview and you could tell. She was nervous as hell and anytime the audience moved, she was looking at them straight in the eye to get them to simmer down. She was so focused on our behavior that it even through her off her game a few times. It was an okay monologue. She did dialects real well. I am not sure it was worth that long walk off the N train.