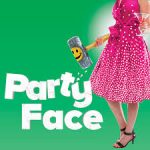 Party Face
Written by Isobel Mahon
Directed by Amanda Bearse
New York City Center Stage 2
January 13, 2018
Production website
💉 out of 5.
Before you judge – let me explain – I had an open slot – and this was a new play – and the tickets were $132 but only $28 on TDF so that was a seemingly good deal – and it was in previews, which is fun – and it did star Hayley Mills who was in Parent Trap so that's good.  Right?
I walked in the small theatre of Stage 2 at City Center – and the set looked great – close, intimate, elegant – but almost too good looking like they were hiding something.  Then clue #2, I overheard the house manager talking to a friend saying "I hope you are okay with this – but she is so lovely to work with."
Then the play:  It was collection of family cliche's (crazy mama, with vacuous vain daughter, angry opinionated daughter, and crazy daughter just released from the crazy house)  and they are all getting together over endlessly poured wine.  (I mean they poured the same glass of wine three times over – when no one had taken so much as a sip; clear attention to detail.)  It was so not funny that Act 1 ended with almost no laughs.  Act 2 finally got it right when it added an actress (fellow inmate at the crazy house) who could at least keep the jokes running)
The entire play felt like good dinner theatre.  You take a genuine celebrity who has been away from an audience awhile and then you throw them a play that will let them take the focus for a few big moments.  This was dinner theatre.  This was dinner theatre without the roast beef buffet.