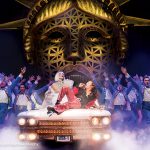 Miss Saigon
Music by Claude-Michel Schonberg
Lyrics by Richard Maltby, Fr & Alain Boublil
Choreography by Geoffrey Garratt
Directed by Laurence Connnor
Broadway Theatre
March 20, 2017
Production website
💉💉💉 out of 5.
It has been 20 years since I saw Miss Saigon and the show feels quite different.  The show still has that wonderful anti-war bite of spinning embassy gates, marching followers of Ho Chi Minh storming through the rice fields, and helicopters (now more realistically then EVER) pulling out all of the American forces from Saigon and leaving all of the natives with lots of empty promises and fatherless children.  The exploitation of the women into sexual slavery and trafficking remains the same – perhaps made even more painfully blunt as this cast has no inhibitions about touching the breasts, butts, and crotches of women at will.  This production truly takes the objectification of women to a new level of inappropriateness.  It is NOT for the faint of heart.
The most significant change I noticed I this production was the casting of the most talented but most young looking Eva Noblezada in the central role of Kim.  The play sets her age at 17 and she, the actress, doesn't look but a day over seventeen.  This really added a new layer to the musical that I am not sure how to respond to.  Kim was such a petite little girl and Chris was such a large strapping man that the scenes really took on a bit of pedophilia.  It looked like a man was seducing a very young girl that he could lift way off of the ground and carry around almost like a doll.  When I first saw this show, I do not remember this uncomfortableness.  I remember the love story between Kim and Chris being very age appropriate – – only race inappropriate.  I am not sure what to make of it.  It worked with the story of exploiting these people – but then it did give the classic love songs in the show a whole new uncomfortable meaning.
I also found the love story of Kim and Chris to be less and less interesting   It is without question beautiful music song by song – but there is so little story/character development that you really never get to know them – especially Chris.  They almost become a bit of a vocal event.
I was surprised by how much I enjoyed the Engineer and his story line.  When I was so much younger for the first production it was all about the lovers, but now the snide, sarcastic side in me revels in the Engineer and his dream of pimping out all the USA.  This character made no sense to me in 1990 and makes too much sense in 2017.  His love of exploiting people to their very soul in exchange for a Cadillac convertible and a fur coat seemed right on point.  The biggest laugh of the night came when he turned to the audience late in the play assuring the audience that once he DOES get to America and starts to set up shop pimping out young women there – – that he – and he alone – "will make America great."  Ouch!