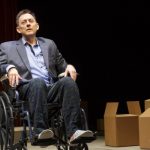 Wakey, Wakey
Written  and directed by William Eno
Signature  Theatre
March 22, 2017
Production website
💉💉💉💉💉 out of 5.
Wakey, Wakey is just 5 💉💉💉💉💉 brilliant!  There is little more on stage then a wheelchair, a few cardboard boxes, a surface to display a few YouTube clips and the amazing Michael Emerson illuminating the quirky world of William Eno.  Essentially Wakey, Wakey is a dramatic poem taking us through the final moments of a man's life.  What is so amazing here is that although you were very connected with the central character and certainly bought the stakes of the moment, you didn't get swallowed up in sentimentality.  You didn't cry.  I didn't cry – – and I am a crier in plays like this!  I was scared.  I was dumbstruck – – but just not sad.
Michael Emerson has truly beautiful eyes and a face that illustrates every breath of this play.  I cannot remember the last time I saw an actor embrace the subtext and totally loose himself in the moment.  There were times I was genuinely afraid that he was never going to come back.  I could almost see him playing hide and seek behind the words.
I think we all have visions of what our final hours on this planet may be like – I imagine mine to be quite grandiose and poetic with grave mea culpas and confessions flowing.  But Wakey, Wakey reminds me that those final moments may just be a scattering of the latest YouTube videos and Facebook word games that I "liked" playing through my brain.  I may end up strangled by the cliché, mind numbing things that I fill my living moments with.
You want to see some REAL THEATRE – – SEE THIS !!!