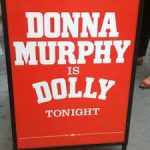 Hello Dolly!
Book by Michael Stewart
Musical and lyrics by Jerry Herman
Choreographed by Warren Carlyle
Directed by Jerry Zaks
Sam S. Shubert Theatre
June 24, 2017
Production website
💉💉💉💉💉 out of 5.
I have seen Bette Midler in concert in her Las Vegas show, and last night I saw Bette Midler's Hello Dolly – without Bette Midler.  I think this was the smartest choice to see this musical.  I have heard from my friends the Bette Midler as Dolly Levi was terrific.  She commanded the stage and you couldn't take your eyes off of her.  I am sure that is true.  But I saw Donna Murphy as Dolly Levi and THAT was perfect for me.
After listening to my friends who saw Bette as Dolly, I must admit I was tempted.  I was worried that she would perhaps be the only thing to see on stage – – that the costumes, choreography and supportive cast would simply be second-string or invisible – but I couldn't be more wrong.  To see Hello Dolly with Donna Murphy is to see Hello Dolly.  The wonderful set, amazing costume, stunning choreography along with one classic song after another – not even mentioning the first rate casting of David Hyde Pierce, Gavin Creel, and Kate Baldwin – – made this Hello Dolly so wonderful that I would have bought my ticket even if there was NO woman to play Dolly.  The side dishes were so good you could have just done without the main course.  It was that good.
And, of course, Donna Murphy is far from a slouch.  She charms and wins the audience from her first buggy ride entrance.  Her work is joyously stressful and full of charisma.  Her voice is glorious and she insists on making her scene painters on stage shine.  Donna Murphy shared Hello Dolly – she does not hold it hostage.
I am not the ultimate musical theatre fan – but this Dolly could easily change my mind.  I remembered every single song and found myself fighting away the urge of singing along with every number!  Sometimes, if lucky, I leave the theatre humming a song – – here I was humming an entire score!  This beautiful score, this full rich stage with the most beautiful ice cream colors, a sung "Hello Dolly" that reprised itself every few measures getting its audience up on its feet over and over – – it was like being in church – – the church of musical theatre.
You want to see Bette Midler – see her – but see her in concert – you'll get all the Bette you've come to love – but if you want to see Hello Dolly, rush to get tickets to see Donna Murphy.  Then you will have see the penultimate Hello Dolly!