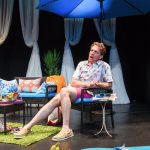 Bright Colors and Bold Patterns
Written and Performed by Drew Droege
Directed by Michael Urie
Soho Playhouse
November 16, 2017
Production website
💉💉💉 out of 5.
I am in Palm Springs for a wedding of someone I have only heard of. I am in my mid-twenties and in the prime of my life. An older man – I guess we can call him my boyfriend – brought me along because every party needs some eye candy. I have no interest in attending the wedding, but I am digging the attention I am getting floating around this pool in my impressive tan and speedo. [Okay, this is not me – not me now, not me then, and regretfully, not me ever.]  This is the vantage point in which we the audience watch the play.  We are the invisible boy toys of the play.
The play, which is a 70 minute solo event presents a pool party close to where a gay wedding is about to commence..  The pool is currently host to our central character Gerry as he holds court over a small collection of older men and their predictable younger dates.  The play is a delicious celebration of all that makes gay men so wonderfully fun and so repulsive all in the same dinner party.  Drew Droege as Gerry does a spot creation of every gay stereotype you can mention.  His hands and fingers are a flitting.  His wrists dance around a cocktail and he uses each of many pina colada umbrella and fruit skewers to punctuate his ideas.  He offered shade with only the flick of an eyebrow.  He is that gay man that we all want to have at our dinner party – at least for the first 20 minutes or so – and then he is the first one that we would like to leave.  A little of him goes a long way.
The play winds its way through pop culture and gay politics as we explore the backlash of gay marriage.  "Why did we work so hard to be normal."  and the fear we have of being singled out for wearing Bright Colors and Bold Strips.  I mean, "where in the rainbow do you find khaki."
This man is just so fun to watch.  How comic timing and physicality is spot on.  You love him and hate him all in the same sip of the cocktail.  If it were not for the skill of Drew Dreoge I fear that the play would drift into interminable cliche.  I LOVED this opening rift with the beautiful floating boys BUT then as rather expected issues of aging, fear of marriage and fears of never getting asked to be married, losing one's beauty, and being clever but lonely begin to pull down the play.  I could tell the moment we switched for cocktails to coke and from contemporary pop culture to Golden Girls.  We were going to get self important and all so whiny.  The play then tries to MEAN something; it tries to pull us into an emotional closeness with the character.  But I didn't want that.  Other plays do THAT better then this one.  I want to go back to the pool and another round of frozen margaritas.  That's where I want to go.