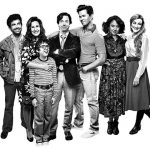 Falsettos
Music and lyrics by William Finn
Book by William Finn and James Lapine
Directed by James Lapine
Manhattan Theatre Club
October 14, 2016
Production website
💉💉💉 out of 5.
I have been looking forward to seeing this play since I was a wee high school lad and SO excited to see a musical about an actual gay couple.  I must have listened to the soundtrack a thousand times in college.
Here is my response to the latest revival:  I just love this music.  It is so fun to listen to – – it tells a story and allows the actor to "act" through the music – and most importantly to me, it allows me to have something in my head to hum as I leave the theatre to take my train back home.
Christian Borle as Marvin is just wonderful.  He is the perfect combination of wit and pathos.  You believe him in his struggle and you feel for him as he faces the consequences of his  behavior.  I did find the casting of Andrew Rannells (of Morman fame) in the role of Whizzer to be a bit odd.  Andrew is just so pinch-cheek-cute, it is hard to imagine hem as the man whore that he portrays.  He is indeed good looking but just a bit too cute for me.
The night I saw it both Stephanie Block and Brandon Uranowitz were out.  I got to see understudies for both of these roles.  This usually doesn't bother me in that I love to see new talent get their chance.  The results were mixed.  Courtney Balan who filled in for Ms. Block just wasn't there.  It was as if she were wearing Stephanie's clothes but they just didn't fit her; she was executing the blocking given to Ms. Block – but she just wasn't owning it.  On the other hand, Tally Sessions filling in for Brandon Uranowitz was wonderful.  He had such a warm, wool-sweatered awkwardness that I was won one over in the first moment.  He make the show his own.
I did not like the set: a collection of geometric shapes that were staked and restacked like some game of Jingo.  It just took too long to get them moved for too little of an effect.  They looked cheap and just didn't add to the show.
I was worried that the AIDS/gay theme of the play would be dated, but it did indeed work as a bit of a period piece.  The part of the play that fell a bit flat to me was the Jewish humor.  All of the corny Jew jokes just seemed too cliché and overdone.
This musical is fun and lively.  I felt like the seven members of the cast had become my oddball family as I sat in the first row – BUT I expected it to hit me in the gut – rather than cause me to reminisce.