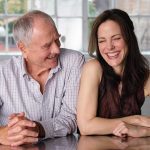 Heisenberg
Written by Simon Stephens
Directed by Mark Brokaw
Manhattan Theatre Club
October 15, 2016
Production website
💉💉💉💉💉 out of 5.
This play just smoked!  It was the real thing!  From the first moment when the stage manager came out to give us our cell phone shaming, and the two actors came out to set up their chairs and looked at each other, I knew this thing was going to cook!
The producers took this two-hander and courageously moved it to Broadway.  They were smart to seat a good portion of the audience on the stage so that this two person, two chair, two table play done in 50 square feet would feel intimate.  The experiment worked.
Mary-Louise Parker was breathtaking.  She was so under each and every word and pause that you couldn't take your eyes off of her.  I have been privileged to see her in Proof, Prelude to a Kiss and Dead Man's Cell Phone, but this was by far her finest work!  I cannot speak enough praise to the work that she turned in that Saturday afternoon!
Then let's talk about her co-star Denis Arndt.  Although this was his Broadway bow, he was so comfortable on stage – and became the PERFECT counterpart to Ms. Parkers work. He was simple and elegant in all of his choices.  He just wasn't "acting."  It was delicious.
The play is so haunting.  What happens when a young beauty walks into your life at the age of 75?  Do you push it away because you are over twice her age?  Do you give a damn about what others might say?  Do you try to figure out the motives (likely usury) of the young lady – does it matter?  Or do you just say "Yes!"  Yes to the chance to have sex after thirty fallow years.  Yes to being called a boyfriend 70 years after leaving your teens.  Yes to giving away all of your money just for the fantasy.
The moment that so caught me was when the two decide to go to bed together (and not just to sleep).  It takes him a bit longer to get into bed (and for other things, I am sure) – but once there SHE tenderly spoons him and he cries.  His body was simply hungry AND it was NOT weird and it was NOT gross.  It is beautiful.
As the character Georgie claims at the end of the play, "It makes me feel good down to the ground."  For god's sake, see this thing before it leaves!!!