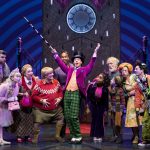 Charlie and the Chocolate Factory
Book by David Greig
Music by Marc Shaiman
Lyrics by Scott Witty and Marc Shaiman
Directed by Jack O'Brien
Lunt-Fontain Theatre
June 12, 2017
Production website
💉 out of 5.
I am sitting in a sea of very young children and I a wondering why Broadway has so very few offerings on a Monday night of theatre going.  This is just not fun.  The moment I walked into the lobby and saw the concession stand pumping endless sugar candy into the mouthes of over-hyped children I panicked.
This show had lots of problems.  To begin, the show is all centered around the adventures of one young boy, and that boy just couldn't carry the show.  I would have thought they would have done a national search like they did for Andrea McArdle.  I thought they would find some child prodigy that would knock your socks off – – but no, he was just a cute little boy with a belt.  I didn't connect to him, I didn't care about him, and I certainly didn't celebrate his win at the end.
The tech on this show was also disappointing.  Most of the scenes were very elaborate rolling platforms with stuff on them.  It was good, colorful stuff – but it was just a platform like any community theatre would concoct.   I thought to myself – just be patient – they are going to save all the magical tech for Act 2 when they actually get into the factory – but then just more rolling platforms and projections.  I wanted something to really knock me off my feet.  I wanted to see helicopters land on stage – I wanted WOW.  WOW I did not get.
Christian Borle was wonderful.  He was clever and witty and charismatic!  He was working to make this a good show  – – but there was just too much show between his moments on stage.  I've got an idea – why don't we just given Mr. Borle a chair and the book and have him read it to us.  It really would be much better.
Predicatable tech, no wow factor, great community theatre actors, and a story that left me carrying for no one on stage.  Just not the best Monday of theatre in NYC.