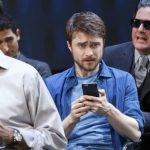 Privacy
Created by James Graham & Josie Rourke
Written by James Graham
Dircted by Josie Rourke
Starring Daniel Radcliffe
The Public Theatre in association with Donmar Warehouse
July 20, 2016
Production website
💉💉💉💉💉 out of 5.
My mind is blown. What the hell just happened? It was a technological "take me to church" experience.
Example: Take out your cell phone. Do it now! Open Google. In the search box type only the following – and do not hit enter. "IS IT WRONG TO". What you will see is a half a dozen possibilities that Google is assuming that you want to see. But how is this assumption made? Hum? It has been watching and recording every single thing that you have done on your phone and – – it knows. It knows. Continue reading Privacy →