Di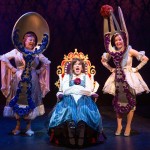 senchanted
book, music and lyrics by Dennis T. Giacino
directed by Fiely A. Matias
produced by Westside Theatre
June 14, 2015
💉💉💉 out of 5.
Six women play dozen's of Disney Princesses in this adult comedy and send-up of all that is Disney and much of what is female in countless bedtime stories.
The result is super sweet, a bit naughty and truly captivating. My imagination was kept for the entire short 90 minutes of the play – grateful of course that they didn't overwork the bit for another hour.
As the musical asks, I found myself wondering why almost every happily-ever-after – – involves finding that certain someone, Can't a hard won happily-ever-after be just as sweet and rewarding on your own. I am NOT a Disney person and certainly not a Princess fan – but now I understand their appeal and danger to a young audience.