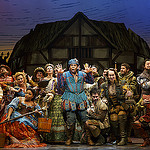 Something Rotten!
book by Karey Kirkpatrick and John O'Farrell
music and lyrics by Wayne Kirkpatrick and Karey Kirkpatrick
directed by Casey Nicholaw
St. James Theatre
June 20, 2015
Production website 💉💉 out of 5.
Two massive things collide in this completely and way over the top musical: Shakespeare and Musical Theatre. And collide they do as the story takes us to a second rate Elizabethan acting company as it seeks to outdo Shakespeare fame by coming up with an entire new genre: Musical Theatre. Admittedly, I am not the biggest fan of musical theatre – – but I just found this one way to over the top – – to the point that it became ultimately tedious. It is one show-stopper after another, milking the audience for more and more attention – – begging to be loved.