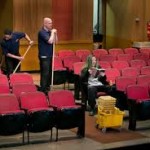 The Flick
by Annie Baker
directed by Sam Gold
Barrow Street Theatre
June 18, 2015
Production website     💉💉💉💉💉 out of 5.
I will never leave my too-buttered popcorn and giant soda in my movie theatre seat again!  Set in a movie theatre in New England The Flick focuses on 3 barely paid workers trying to keep the movies playing (although no one seems to be attending) and the floor free from trash.  They interact and collide with each other and basically get to know each other.  BUT what makes this experience so rare is that they are getting to know each other at the very same speed that we are!  This doesn't happen quickly.