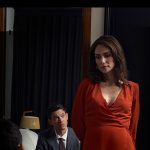 The Layover
Written by Leslye Headland
Directed by Trip Cullman
Second Stage Theatre
September 2, 2016
Production website
💉💉💉 out of 5.
This play was so downright wonderful in its first half. I was so worried that the cliche of two lost souls picking each other up while on a layover between cancelled flights was going to be too much. What was so wonderful was that the hustle here was so original, clever and fresh. I was kept glued to the stage as a bit of a referreee watching each of the partners score points with each other only to loose them with the next reference. They were beautifully imperfect but clever. You just never knew if they were going to get their joint act together and get some action for the night!
But action they got and here is where the play began to slip for me. As they began to strip down for the enviable, they just became less interesting for me. Now, of course, the pureunt question of "how far will they go" shows up. This play just reaffirms the idea that people are oh, so much more interesting AND sexy with clothes on – but without them, oh so few people live up to the hype.
The other truism that the play captures is the problem with having an affair with someone else who easily has affairs. Will this be a recipe for success? I think not. Karma you know.
The encounter is labeled in dialogue as the meeting of "the boring one" and "the crazy one". Of course this is fun bar talk until it is real and begins to play out. We discover soon that both come from very different lives. Both the wealthy but sadly trapped man and the broke and deceitful woman should just never had met. AND then crazy man thinks that he can buy his way into boring lady's life. Think again – – and prepare yourself for the ending everyone could anticipate once they had consummated the deal. Broken glass, blood and cliche rule.
But if you ever find yourself in an acting class and need a kick ass duet scene check out the FIRST scenes of this play. You will be rewarded.