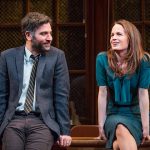 The Babylon Line
Written by Richard Greenberg          Directed by Terry Kinney
Lincoln Center: Mitzi E. Newhouse Theatre
January 5, 2017
Production website
💉💉💉 out of 5.
I walked into the theatre and saw the tell-tale chalky blackboard, pictures of presidents, encyclopedias, student desks and musky muskiness.  I was back in fifth grade at Central School.  Only this play wasn't about going back to 5th grade.  It was a classroom that was being used in the night time for an adult education class in writing.  A wanna-be writer from the city was making the perilous journey by train (hence, the Babylon Line) to the suburbs of Long Island to share his love of writing with a group of misfit adults a bit chagrined that the class they WANTED – the class on flower arranging or such was filled to capacity.
I was leery from the start because when writers (like playwright Richard Greenberg)  start to write about writers who have trouble writing but seek to teach others about writing and listen to their writing and seek to improve their writing all while gleaning some inspiration to bring home to their writing – – well it all seems a bit like artistic incest. I know playwrights get very excited about discussing writing – but perhaps we, the audience, would like to venture beyond this topic.
The play very cleverly used the writing class as a tool to open up the lives of these various housewives, veterans, and other misfits and damaged people.
The stories were beautiful and some quite moving, but the scene work just never took off.  There was a love story and a seduction at the center of the story – between the student and the teacher – but you KNEW from the start that the man was just never going to give in – and you really didn't care.  He wasn't a good teacher, he wasn't charismatic, and one couldn't imagine he would have been a good lover.  It was compelling to watch her suffer so to get him – but that was it.
I wanted scenes – – I didn't want so many narratives.  At times I thought I would have enjoyed this much more curled up on the couch with some tea.  I want to see the magic of theatre and less the magic of he novel.
BUT if you one of those female actors out there looking for a good monologue, be sure you check out the one that brings the curtain down in this play!