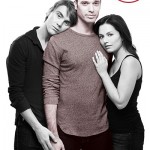 Straight
written by Scott Elmegreen and Drew Fornarola
and directed by Adam Sandberg
Acorn Theatre
March 21, 2016
Production website 
💉 out of 5
Gay plays scare me. I am so worried every time that I buy my tickets for a gay play I am going to see a second rate play. First off, I am a bit taken back by the very term "gay play." I am thinking that by now the role of gay characters should be so assimilated into culture that there is no need for the "gay play." That being said, many gay people, especially gay men love their gay theatre. I see a whole grouping of gay men at gay plays that don't partake of any other kind of theatre. How do I know this? Attending theatre by myself I work my way to lean into the conversations of other people. Having no one to attend the theatre with, I have become an expert at "joining in" to the audience experience of others.
That said, Straight is very much a gay play. It has so little interest in discussing anything other then the sexual behavior and hook-ups of gay men. Straight spends so much time focused on "who we go to bed with" and so little time figuring out "who we are when we go to bed." The premise of the play is clear. Ben (Jake Epstein) has a girlfriend – a very girly girlfriend – that is "just great." Of course, he is also hooking up with Chris (Thomas Sullivan). Hmmmm, which to chose? I got an idea – let's try to juggle both – – and hmmmmm, what happens she comes in while the two men are spooning in their boxer shorts – and hmmmmm, will the protagonist be forced to choose and hmmmm, which will he choose? I've seen it. I've got it. Now say it to me in a new, wonderfully inventive way. Give me characters that rise above the stereotypes and get me to rethink infidelity. Or, at least, give some good ol' fashioned exploitive nudity. I got none.
What I did get is some wonderful banter between the eternally horny men. I did get some wonderful zingers and catchy phrases. I felt like I was at a stand-up comedy show – trying to catch all of the funny stuff they were saying so I could share it with those back home. During the performance I saw two minor mishaps happened on stage. The first was a light that on stage that turned on much later then the character flipped the switch – – the second was a shot of liquor that was filled to the very brim – making it impossible for the character to get to his mouth without breaking out in laughter. These stage mishaps lead the actors to become very real. I connected with them. I followed them as they ad-libbed a bit to get back on track. It was wonderful – – but you could sense when they returned the text even they felt hampered by the pedantic lifeless language.
When seeing a show, I am very observant of the curtain call. I love to see how much they enjoyed their their time on stage. This cast did not.