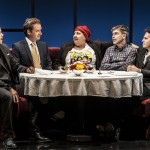 Steve
Pershing Square Signature Theatre
Written by: Mark Gerrard
Directed by: Cynthia Nixon
Production website 💉💉💉 out of 5.
You arrive to a very small theatre at the Signature Theatre building. The moment you enter you notice a nicely dressed man sitting on stage alone with a piano. He is playing show tunes. He is playing lots of show tunes. Then he is joined on stage with the remainder of the cast – – all well dressed – – all gathered up to the piano singing show tunes to each other. A few audience members – including myself – thought that what we SHOULD do is to find this so hooky, so yesterday, so beneath serious theatre audience goers. But  . . .soon we all began to mouth the words, then we started to sing out loud, then we gestured through a few of the famous dances from our chairs – – and then we cried. Some show tunes make us cry and unashamedly we were crying with each other – – and this was just the preshow. But – – soon the show tunes stopped and all the characters began to assemble on the set and the play went forward.
However, from that point on everything was built on musical theatre lore! The play weaves rather predictable story of middle aged gay men (not so middle anymore) working through issues of gay parenting (that does seem to the be the central theme of many plays this winter in NYC), infidelity, polyamorous relationships and lost youth all mixed with a best lesbian friend in her last throws of cancer. What was truly new in this play was the inclusion of intense texting, sexting, and e-mailing. Here was a group of affluent gay men owning their first iPhone and stepping off into the world of electric cheating. In one wonderful moment on stage, our protagonist, Steve, was trying to keep texting messages alive regarding his son's babysitter, AND talk to his mom, AND keep up a sexting conversation with his latest fling. The traffic jam of texts were all displayed on the back wall in an anxious, multi-tasking mess. Some things should be left to to the young.
This play was fun and was a wonderful to spend a chilly NYC evening. It was 100% gay stereotypes and 100% gay attitude but it was done so well. It was easy to forgive its "flamboyance" because it was so well written and so well performed. Some gay actors just know how to deliver the goods – – and this play had all of them. I do not think there is going to be any audience for this show outside of this NYC theatre cocoon. Here is a test to see if this show is for you. At the very painful realization of the pending death of Steve's best female friend, he cries and cries. He questions God for all the pain in this world and all of the things that are out of his control and all things he simply cannot understand. To all of his grievances against God he adds, "And why, God, why did you every allow for Mame to be turned into a move?" This line is funny; everyone in the theater laughter. But theatre geeks loved this. Musical theatre geeks loved this Gay musical theatre geeks LOVED this. And if you do – – then this is the show for you!