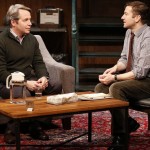 Shining City
book by Conor McPherson
with Matthew Broderick
directed by Ciaran O'Reilly
Irish Repertory Theatre
June 25, 2016
Production website
💉 out of 5.
I love the wonderful ghost stories of Conor McPherson – but, lordy, I didn't find much to enjoy here. Matthew Broderick, in the pivotal role , just falls flat for me. I couldn't figure out if he was a flat and plastic actor content to just be himself for this withdrawn character or whether he was actually working to be flat and plastic – but the result was certainly flat and plastic. There was just no way that I was going to connect to his story. None of it seemed to affect him – and, certainly, not of it affected me. And that dialect? – – It is a bit scary at this level of theatre when an audience is wincing overtime the Irish dialect becomes inconsistent. Ouch! Not at this ticket price.
The supporting cast did well enough. I was particularly taken by Peter Scanavino as the crippled hustler. Here I found empathy – but for the rest, not at all.
I know the key to these plays is subtly and nuance. I know the story is to be painted by the smallest of paintbrushes. I was pushing myself to become a microscope to this subtlety, but ultimately no payoff . And that "scary thing" at the end of the play? – nope.