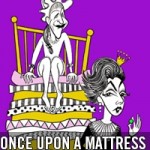 Once Upon a Mattress
Music by Mary Rogers
Lyrics by Marshall barer
book by Jay Thompson, Dean Fuller, and Marshall Barer
Directed by: Jack Cummings III
Aaron Arts Center
Production website     1/2💉  out of 5.
I really didn't want to see Once Upon a Mattress. What I really wanted to see was the "dream casting" that pitted Jackie Hoffman (Princess Winifred) and John "Lypsinka" Epperson (Queen Aggravain) together. I wanted to see this. But the problem was I had to sit through almost two hours of Once Upon a Mattress to get to this. It really wasn't a bad production. Most of it felt like a very competent college production of Once Upon the Mattress that roped in two gay icons of the stage – – Hoffman and Lypsinka. If only there had been more of them and less of the rest.
This was my first opportunity to see Lypsinka in person. Certainly her drag performance is a bit of a legend in New York circles and here she was – out of the bar and onto the stage. She doesn't really do much except show off her flawless makeup and her eyes that can tell a whole sarcastic range of attitudes. As a bit of a sarcastic soul myself, I was envious of her ability to slice through sincerity and precociousness with just a lift of the brow. Marvelous!
Jackie Hoffman was a bit of a disappointment. Although a fabulous choice in casting, Jackie just didn't seem like she wanted to be up there on stage. I found that she was just marking her moments. The famous barbell and drinking scene before she heads off the the many mattresses CAN be a comic masterpiece – – as drink after drink changes the ability to lift the barbell lift after lift. Comic build, precision, finnese – – all needed and non delivered. She was short, loud, Jewish, and way too old for the part – – and that was funny – but she relied on these factors adding little else.
This is the second show that I have seen at the Abrons Art Center – a theatre that I am beginning to identify as the gay community theatre of New York – – not a bad title – but good lord there is competition. As I sat there at the curtain call watching a cast that was looking as uncomfortable as a princess sleeping on a pea – I thought that they should banish all but Jackie and Lypsinka – move the two of them into a seedy bar – pour lots of drinks and tell a 30 minute version of Once Upon a Mattress that no high school could ever find appropriate!