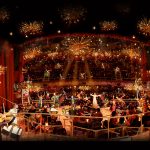 Natasha, Pierre & The Great Comet of 1812
Music, Lyrics, Book and Orchestration by Dave Malloy
Directed by Rachel Chavkin
Imperial  Theatre
June 10, 2017
Production website
💉💉💉💉💉 out of 5.
This musical was like a full exotic dinner with course after course of food that you could never imagine, served in a way you couldn't anticipate, with a flavor that was both familiar and exotic.  That is my best shot at describing the "experience" of seeing the Great Comet.  The entire theatre had been gutted and made into a Russian beer hall.   A similar attempt was made by Broadway's Cabaret a few years ago – but this TRULY took the idea and ran with it,   Food was served (or rather tossed) at the show's beginning and much of the audience sat at candle lit tables.
I was worried that I was going to have to know the backstory of War and Peace before I could get anything out of the story, Ashamedly, I did find the Cliff or rather Spark Notes for the massive novel and rushed through it a couple of times.  BUT it was not needed.  The story was self contained.  A woman falls for a man, is tempted by another man – and faces the difficult chore of choosing and facing the consequences of the choice.  Blessedly the story was no problem –  it was HOW they told the story.  Apart from the reconstruction of the actor/audience relationship,  the music track for this show crossed all styles of music.  You could never anticipate the next song or how it was going to be delivered.  Although I am not a musical person, I was amazed at how many things a good singer can do with their voice  – – the sounds it could make . . .
The audience was also a part of this show.  All of the aisles of the show were trafficked  by actors – – and not in some type of gimmick of "going out into the audience"  -they used aisles.  They danced in the aisles.  The aisles became as alive as the story on the stage.  The periphery of your vision was always being teased and captivated by the actors.
I cannot say again how beautiful this show sounded.  I had no idea that music could do this.  And what a treat to see Josh Groban in the show.  His big, beautiful masculine voice was really given a platform AND the man could act.  When he went down on his knees to the arrival of the comet — he had me hook, line and sinker.  I only wish I knew more about musical theatre to better share this magical night in the theatre.