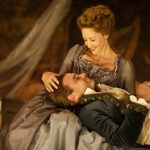 les Liaisons Dangereuses
Written by Christopher Hampton  Directed by Josie Rourke
Booth Theatre
December 30, 2016
Production website
💉💉 out of 5.
I experienced something in this show that I have never experienced (or at least in my memory – and certainly not in a Broadway show) – – I never knew it was over.  The final card playing scene of the play was happening and then there was a pause in the talk and then the lights went out and the play was over.  I felt like I had experienced some kind of lapse in consciousness.  This moment meant nothing to me.  It resolved nothing.  I felt nothing.  All of the sudden we were just clapping.  Either I am a total idiot or something was amiss for me on stage.
It is hard to get the image of the John Malkovich/Glenn Close movie out of your mind.  It was such a delicious serving of sex, power and the praying on the vulnerable.  It was so great to see clever erotic evil go play a game that was sure to sting them – and ultimately  cause them to pay the price for their own evil.
But this play was different.  The remarkable and charismatic Liev Schreiber just fell flat for me.  He was so not in the game.  He had that wonderful, glib, nonchalant, eye-rolling superiority – – but I never saw his heart in the game.  In the final moments of the story when real love is to hit him and he is asked to pay a real price – I just didn't see it – much less care about it.  He handled the woman that were simply conquests to the woman he felt for in the same way.  We go to the theatre to watch characters suffer and I NEVER saw him suffer.
Janet McTeer as the Marquiese de Merteul was a wonderful actress, but she too was too too focused on form that I never believed that ANYTHING was really affecting her heart.
Both Liev and Janet are master actors that can dish out all of the cleverness and endless sexual double entendres with shrift, but not much more.
The play did have some uncomfortable moments that ring differently for me today.  In a very famous scene Valmont (Liev Schreiber) seduces and essentially rapes an adolescent female.  This particular female was played as such a half-wit it became a scene of raping the mentally limited and became WAY uncomfortable for everyone sitting next to me.
I jut felt that I was seeing a deliciously decorated period cake – frosted and decorated to an inch of its life – but once cut – there wasn't much of a cake.
.