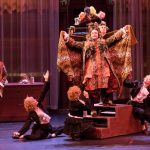 Le Bourgeois Gentilhomme
Comedic-ballet by Moliere
Music by Jean-baptiste Lully
directed by Denis Podalydes, Societaire de la Comedia Francaise
Lincoln Center Festival
July 24, 2016
Production website
💉💉💉💉 out of 5.
I should never have gotten those seats so close to the stage! Although I was so happy to score tickets in the fourth row for this very popular Lincoln Center Festival, I neglected to remember that since the production would be done in French; and sense I do not speak French; and since they would provide a captioning board above the proscenium – – I should never have set this far forward.My neck is still a bit stiff from 3 1/2 hours + hours of snapping my head from the actors to the captioning and back. It was even made worse in that this was a comedy – and comedy has its sweetest, funniest moments before and after the lines – – you got it, the very moments that I was checking the captions to catch up.
What was remarkable about this production was that it was far more then the Moliere play I had expected. In so many of these farces there is that "incidental music" to underscore all of the dances and parties in the stories, but, is this production, that music was full and beautiful. There was a top-notch on-stage orchestra of a dozen musicians, a similar sized group of dancers, and a handful of beautiful operatic singers offering a full rendering of the music by Jean-Baptiste Lully. This truly made sense with this particular story as our bourgeois gentleman will do all that he can to be an "artiste" – a protagonist with a champaign budget and beer taste. He trains in instrumental music, vocal music, dance, fencing and philosophy all to disastrously hilarious results.
The play was funny – really funny. No cost was spared in the over-the-top costumes and wigs. The contrast between the legitimate orchestra, musicians, singers and dances provided a STARK contrast to the bumbling, narasistic protagonist. This was farce at its best!
But the neck pain . . .