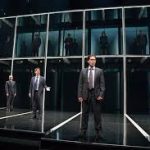 Junk
Written by Ayad Akhtar
Directed by Doug Hughes
Lincoln Center Theater
Vivian Beaumont
December 31, 2017
Production website
💉💉💉 out of 5.
Usually my first criteria in looking at a play is to see if I cared for any of the characters on stage.  I want to be able to identify with at least someone and follow them through some struggles.  I want to see them suffer and learn/feel something from their suffering.  However in Junk, I could care less about any of the character on stage – and this play had well over a dozen characters on stage.  Usually that would be the end of the story for me when it comes to a play.  But Junk is different – because junk is about money and people just get in the way of money.  For over two hours Junk became the most intoxicating/invigorating exploration of the idea that debt can be far more valuable then assets.  When this was mentioned early in the play, I just couldn't wrap my mind around it.  How can debt have any value?  But, after this exploration into the junk bond business of the 1980's that eventually lead to the housing crisis some twenty years later, I got it.  Debt gives you negotiating power.  Debt is promises and promises can have much more power then realities.  The illusion of money is more intoxicating then the actual cash in hand.
Junk was beautiful and slick.  Junk was about our modern day kings and the modern day warfare – – not so much the Game of Thrones but now the Game of Junk.  Both certainly involve greed, aggression, plotting, ruthlessness, and a well tailored suit.
A two hour lecture on the dynamics of equity and debt transactions and the barter of things that don't even exist – – I didn't care about a single person on stage – but I was enthralled the entire time.