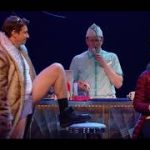 Groundhog Day
Book by Danny Rubin
Music and lyrics by Tim Minchin
Directed by Matthew Morris
August Wilson Theatre
June 26, 2017
Production website
💉 💉💉out of 5.
There was more stuff in this show then one could possibly imagine. Circle upon circle was spinning throughout the show.  The actors literally did laps for the two and a half hours all the while singing and dancing around in parkas in NYC in July!  Groundhog Day was so beautiful and magical to watch. I thought to myself that Charlie and the Chocolate Factory would have really benefitted from this set designer!  
it had been a long time since I had seen the movie so I was ready to go through the story as a new fresh event. The story telling was beautiful. At times I felt we could have done less – I mean we get the whole repeating thing. I would vote to trim at least 15 minutes.  Andy Karl  was quite wonderful. He is very handsome and charismatic and- as shown by all the poster he is a man of 100 expressions. He certainly wins the face acting award. I did have trouble caring for and celebrating his win at the – but perhaps that is more of the story of this unlikeable man.
The thing that concerns me most was the music. I left the theatre without being able to whistle through a single song. Nothing musical stood out to me at all!  They worked to have music from a variety of genres (i.e. rock, country, folk etc) and certainly there were some nice voices but not a song to hum – certainly not a reason to buy the cast album!
The love story at the heart of the musical just didn't do anything for me. I'm a sucker for a romantic story but I found very little spark. Each was in their own play and never did they meet. But WOW the visuals were stunning. It is easy to see how our hero Andy Karl ran into a piece of scenery early in the run and seriously injured his leg. (He was still wrapping it up for a matinee weeks later.)  Mr. Karl, the story and the scenery were fine but there was no music to wrap the package together. At times I wondered WHY are these folks singing – – something one should never do at a musical.